Feature
How readers can support the Front Matter blog
The Front Matter blog launched last week and while the content is currently only written by me, I hope this will change in the coming months to include one-time guest posts and regular writers. One challenge is to figure out how to finance the blog in the long run. Running blog infrastructure is not overtly expensive, and in the case of the Front Matter blog amounts to about 120€/$140 a month:
The cost not reflected above, is of course staff time for writing blog posts, but also editing, deciding on topics, reaching out to potential writers, etc. A reasonable goal would be to pay for an editor one day a week, which would add about 1280€/1500$ to the monthly cost running the blog. How can this be supported financially?
While there is always the hope of finding an organization (funder, publisher, institution, infrastructure provider, etc.) that cares enough about Open Science to pay for running this blog, a more realistic alternative is to depend on reader contributions, combined with volunteer donations.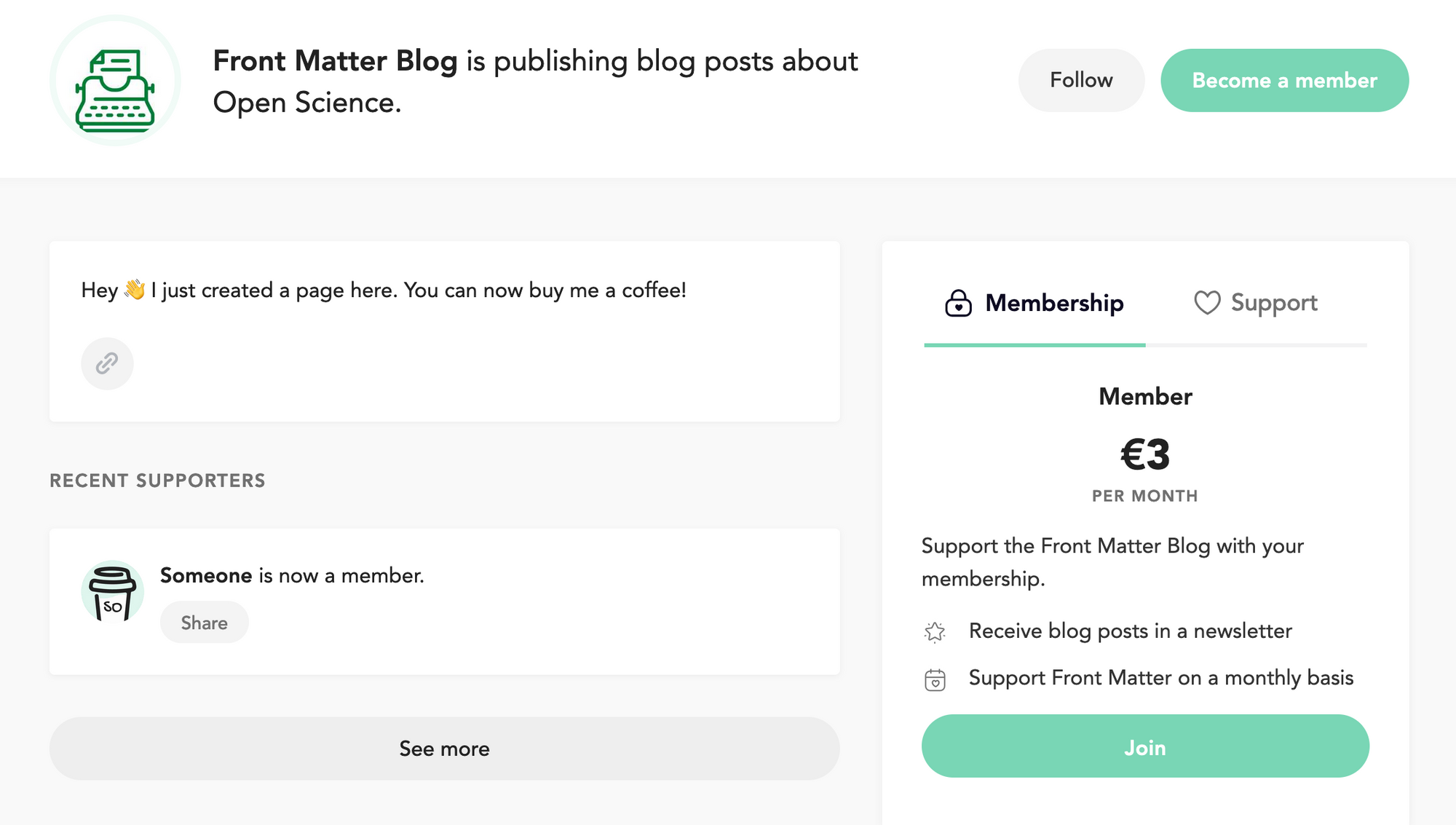 Advertisements are a very painful way to recover even a fraction of the costs for running a blog that caters to a relatively small audience (scholarly communication). In response, several platforms, including Medium, Ghost and Substack, have evolved with a business model focused on providing exclusive content to paying subscribers. This is obviously not an option for an Open Science blog, where the assumption is that content is free to read and reuse under a Creative Commons license.
Today the Front Matter blog is starting a newsletter with a small monthly subscription fee (3€/month or 30€/year). The newsletter does not provide exclusive content, but rather is a convenience for users to directly receive content in their email inbox rather than via the Front Matter RSS Feed. In addition, users can give one-time donations to support the Front Matter blog. These payment options are provided by Buy Me a Coffee, with a link to the membership/support page in the footer of every Front Matter page  (see screenshot below).
I hope that by the end of the year, some revenue will accrue that can support the Front Matter blog. It would definitely be a strong motivation to write regular Open Science blog posts with interesting content. A related aim is of course to nurture active and engaged readers who write comments in response to the posts, suggest topics to write about, and generally tell me via comments or email how Front Matter can do better.