The Rogue Scholar science blog archive is open to science blogs that want to be enhanced by adding long-term archiving, DOI registration, and full-text search. The currently 56 participating blogs represent a broad spectrum of topics, people, and communities. Today I want to go into more detail into one particular Rogue Scholar use case: science blogs for grant-funded projects.
Science blogs for grant-funded projects typically have the following features:
Science blogs are part of the outreach activities of many grant-funded projects.
They complement other project outputs that include publications, presentations, datasets, and software.
Funders want to see the impact these outputs, including the blog, have on relevant communities.
Grant-funded projects are a time-limited activity of typically 24-36 months, but the impact ideally continues to grow past the funding period.
From the above it becomes clear that grant-funded research that includes a blog as part of its outreach activities, has to think about two major issues:
How to track the impact of the science blog in ways that can inform the project team and the funder?
How do we maintain the content of the science blog beyond the funding period?
Rogue Scholar can help with this use case, and I have implemented this for Project THOR.
Project THOR
Project THOR – Technical and Human Infrastructure for Open Research is a research project funded by the the European Union's Horizon 2020 research and innovation programme under grant agreement No 654039 that was carried out between June 2015 and November 2019. It had nine participating organizations and was coordinated by the British Library. I joined DataCite in August 2015 as Technical Director and was deeply involved in THOR. The goals of the project were
THOR will build on the services provided by ORCID and DataCite to ensure that every researcher, at any phase of their career, or at any institution, will have seamless and free access to Persistent Identifiers (PIDs) for their research artefacts and their work will be uniquely attributed to them.
The project started a blog to report on project activities and project outputs and published 66 blog posts during the 30-month project duration. The public project outputs are available via Zenodo and in various publications.
Almost four years after the project ended, the blog is unfortunately no longer publicly accessible, and several key people involved in THOR have moved on to other projects, and organizations, or have retired. This is a typical story for grant-funded projects, but painful as THOR is about persistent identifiers and services.
Fast-forward to September 2023 and the launch of Rogue Scholar, and we can now make these changes:
Register the THOR blog with Rogue Scholar and archive the full-text of all blog posts, available via search. A search for content drift finds the blog post about the THOR final event where Herbert van de Sompel gave a keynote.
Register DOIs for all blog posts, with metadata that includes the abstract, authors (with ORCID ID), and funding information – the THOR grant. This enables searching for outputs funded by THOR via Crossref or other services using Crossref and/or ORCID metadata
Have the DOIs point to archived versions of blog posts at the Internet Archive, enabling reading of the full text of all blog posts despite the blog no longer being publicly available.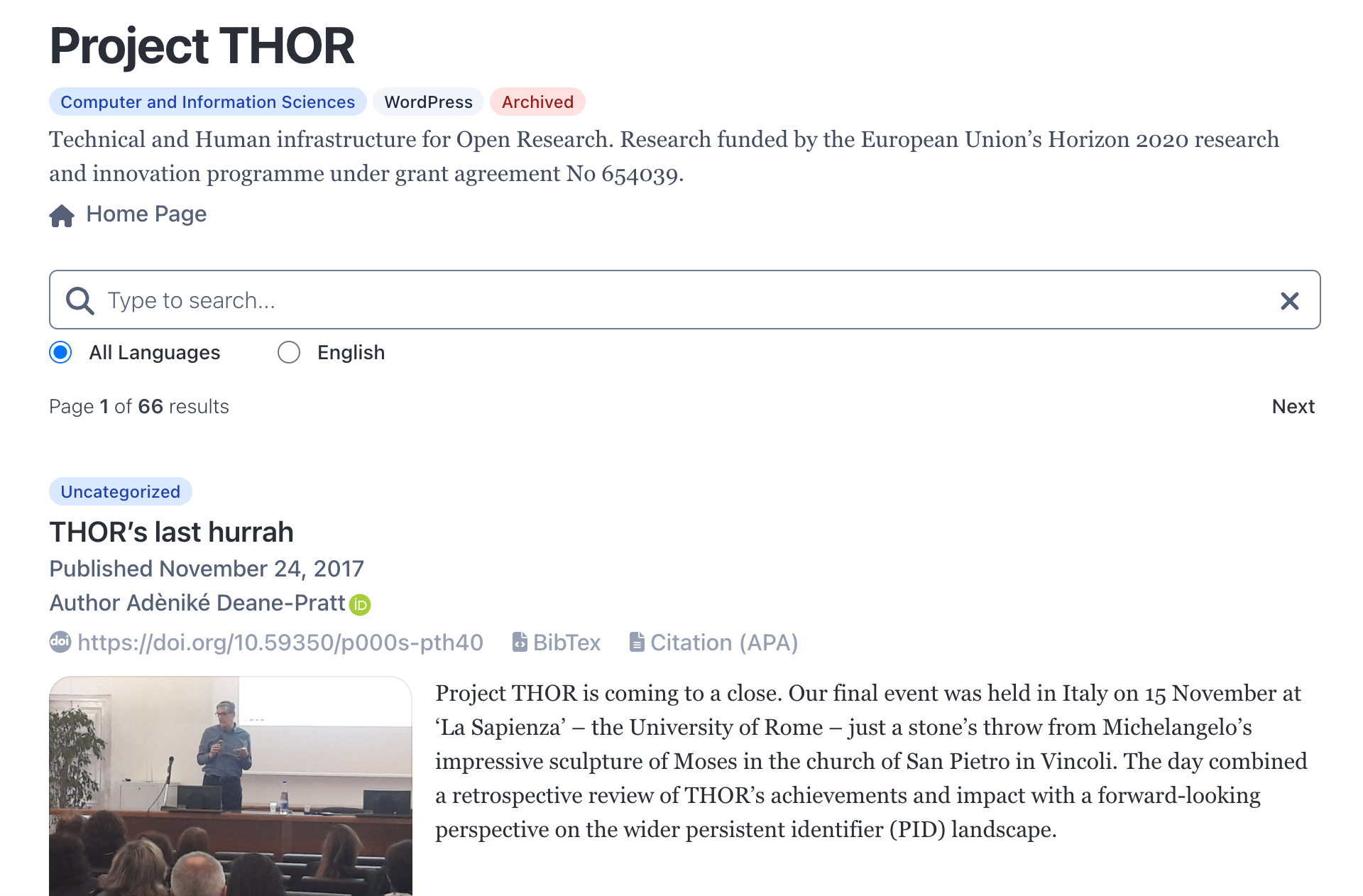 The ideal time to think about including the blog of a grant-funded science project in Rogue Scholar is of course at the start of the project and not four years after the project has ended. Please reach out to Rogue Scholar if you manage a blog for a grant-funded science project. The costs for automatically archiving all posts, indexing them for full-text search, and registering DOIs are very reasonable (a $1 per blog post one-time fee), with additional optional fees if you want training and/or reporting.
References
Brown, J. (2015). The next step for open science: A state-of-the-art identifier network. https://doi.org/10.59350/e346f-2jg53
Fenner, M. (2015). Thank you PLOS. https://doi.org/10.53731/r294649-6f79289-8cvzn