News
Launching blog administration self-service in Rogue Scholar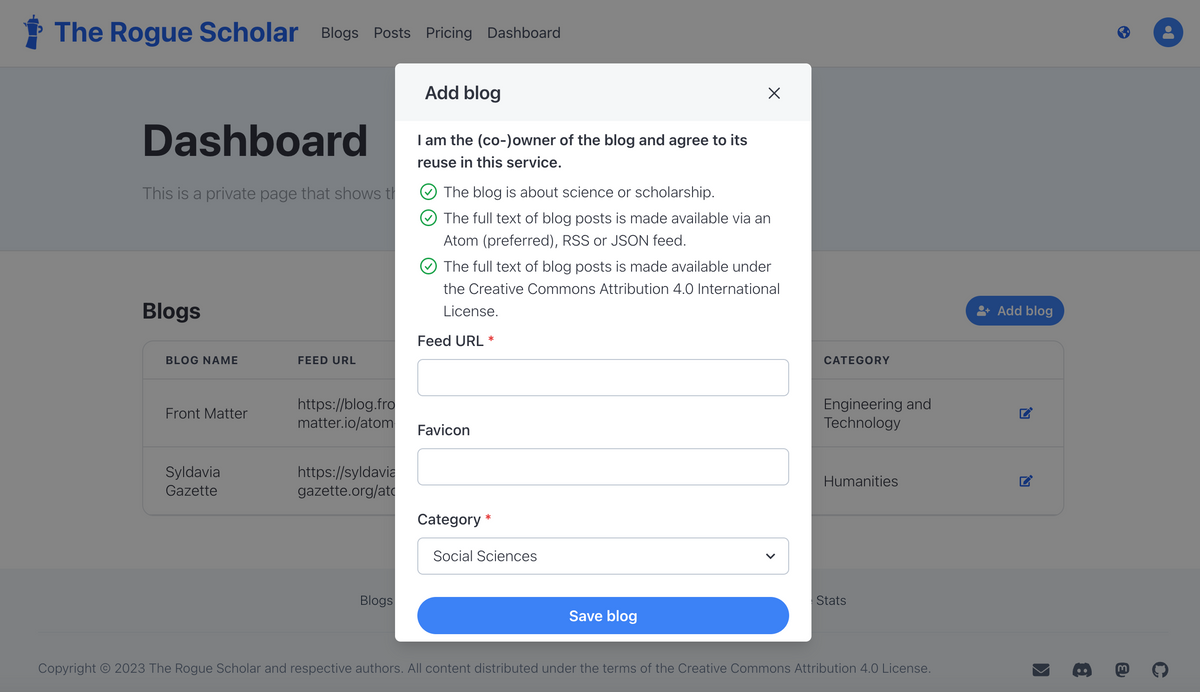 This week I added blog administration self-service to the Rogue Scholar blog archive. This makes adding a blog to Rogue Scholar easier, faster, and cheaper.
To start blog administration please create an account with Rogue Scholar. Use the "Sign In" Link in the upper right corner to sign in or create an account with username and password, or sign in via Google or GitHub.
Once signed in, you can add your blog via the Dashboard page. You have to agree to the Rogue Scholar terms of service (which haven't changed since Rogue Scholar launched in April 2023):
The blog is about science or scholarship.
The full text of blog posts is made available via an Atom (preferred), RSS, or JSON feed.
The full text of blog posts is made available under the Creative Commons Attribution 4.0 International License.
The only required information is the URL of the Atom, RSS, or JSON Feed. The Atom format is preferred, as Atom supports multiple authors and author URLs, used for the ORCID ID in DOI registration.
A blog image (favicon) is optional and can be added if not included in the Blog feed. About half of the included blogs currently have a favicon:

The category helps classify the blog and becomes more important as the number of blogs and blog posts included in Rogue Scholar increases. Currently, we use the six top-level categories of the OECD Fields of Science and Technology.
Once submitted, Rogue Scholar automatically fetches additional information from the blog feed, e.g. blog home page, title, description, and language. There is a final manual approval step before the blog can go live on Rogue Scholar, and we might contact you with additional questions. The main issue that we found is incomplete author information in the feed. Once approved, Rogue Scholar starts archiving the full text of blog posts, adds them to the full-text search, and starts DOI registration of blog posts, all fully automated.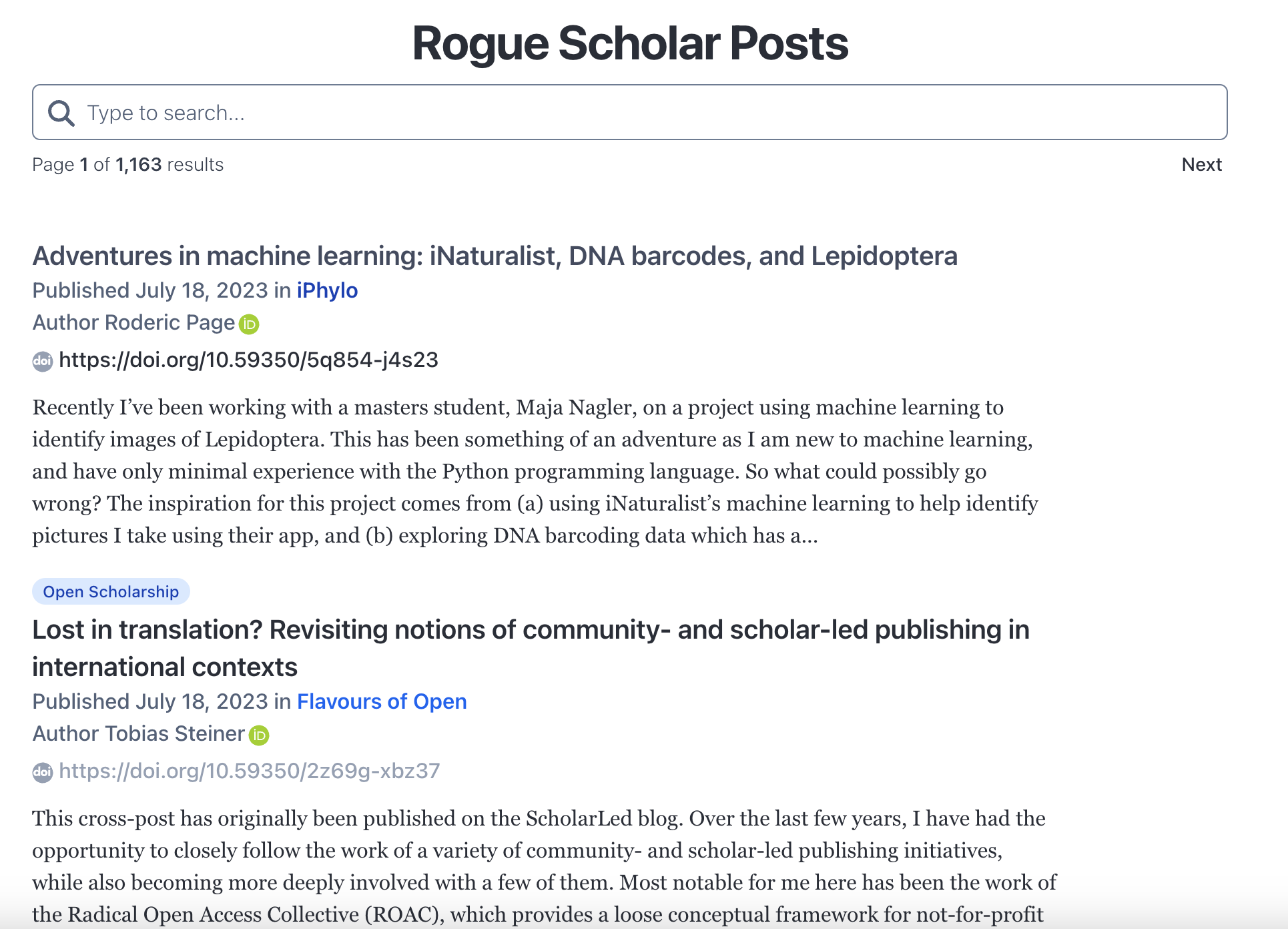 Of course, it is possible to register more than one blog, and three users have done so. Blogs already included in the Rogue Scholar have to be manually added, so please first create an account with Rogue Scholar.
In the past weeks, I have worked on translating the Rogue Scholar user interface. The currently supported languages are English and German, and I am particularly interested in including science blogs written in other languages. It is of course also possible to write individual posts in other languages, Rogue Scholar will automatically detect the language and display it if different from the preset language: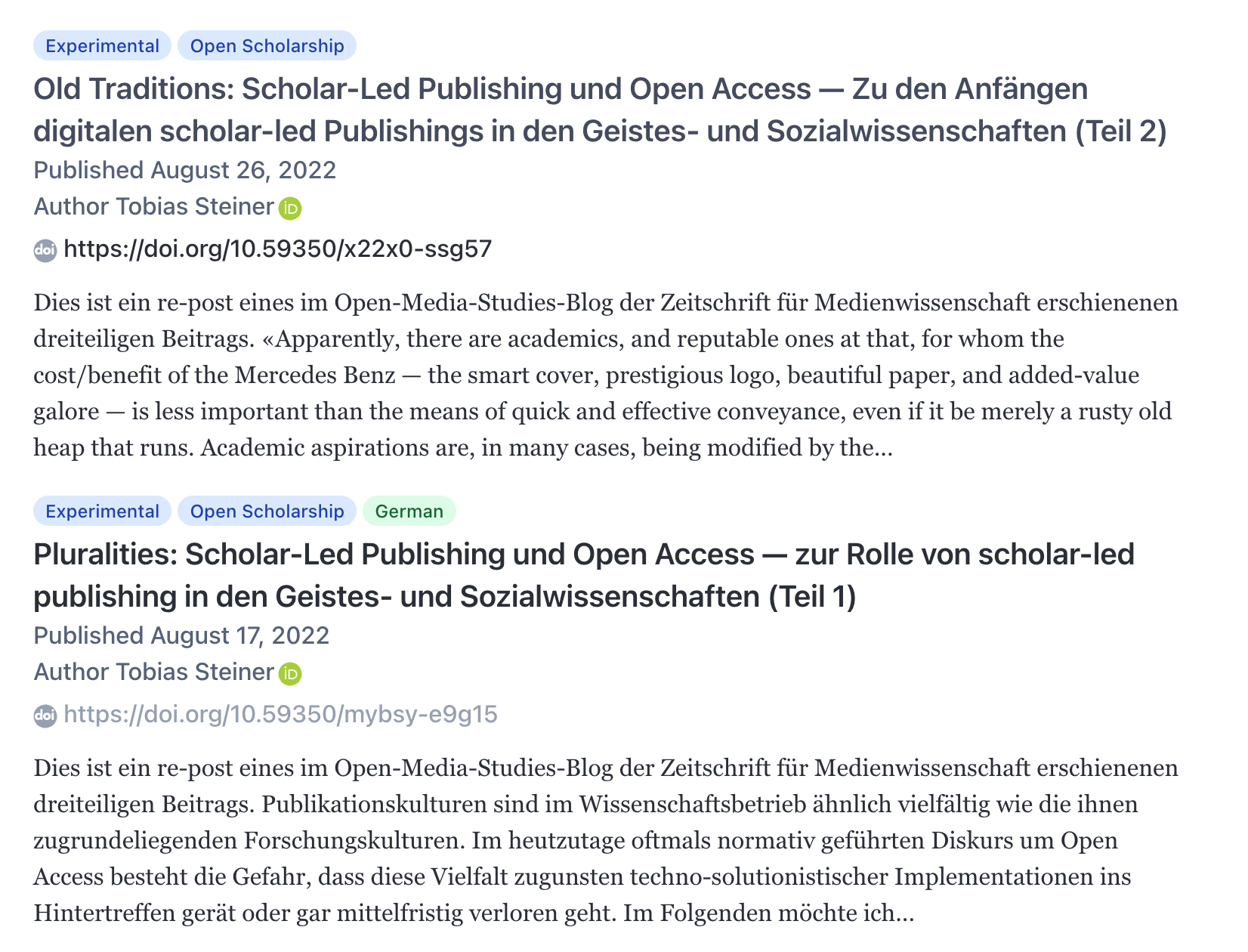 Once non-English language content in the Rogue Scholar becomes more common, we will also add a language option to the search interface.
Please reach to me if you have feedback or questions, or if you need help adding your blog to the Rogue Scholar. The next feature I will be working on is a streamlined payment process for blogs with more than 50 posts per year (which are always free).