News
Launching the Front Matter Roadmap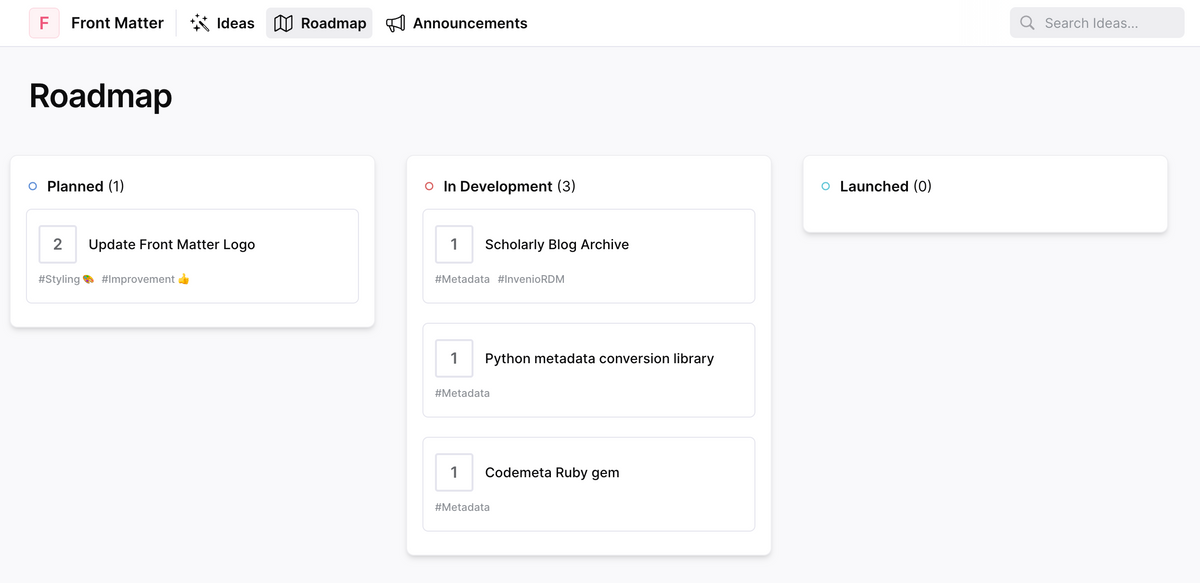 In a blog post last week I talked about what I am currently working on, namely a) helping to make it easier (and safer) to run the InvenioRDM digital repository software in Docker container infrastructure, and b) working on converting the bolognese metadata conversion Ruby gem to Python to enhance InvenioRDM functionality.
To get updates on this work you can follow the Front Matter GitHub repositories – the work I am doing at Front Matter is mostly happening in public code repositories. But maybe you are really only interested in basic information, e.g. what I am working on, when it is ready, and providing some high-level input. There are several ways one can provide this high-level information, but usually, that is too much information for a blog like this one, and too much technical detail in a code repository. There are plenty of tools and services available for this typical product management work, but most of them are not a good fit more a small startup like Front Matter.
Today I am announcing four new (and related) ways you can follow the work Front Matter is doing, and provide feedback and other input:
And of course, you can also interact with Front Matter via email or Mastodon. You no longer find Front Matter or me personally on Twitter, as this has become a chaotic, unfriendly, and toxic place with an uncertain future.
With that, I wish all of you a peaceful and relaxing holiday season and a good start into 2023.